Hitfile.net – Premium Account
Ever since the emergence of cloud storage platforms, it has become extremely easy to store, share, edit, and manage files online.
Apparently, you do not even need flash disks, hard drives, and external storage devices anymore. You can easily upload and access your files remotely anytime you need from the comfort of your home or office using a PC, laptop, or smartphone.
In case you are searching for a reliable file hosting platform, consider signing up to Hitfile.net.
What is Hitfile.net?
Hitfile.net is a cloud storage provider (file hosting service) that allows users to upload, share, and manage their files and documents remotely. Basically, this file hosting service provides storage, backup, and sharing solutions to internet users across the globe.
The most exciting aspect about this platform is that signing up is free, but is it advisable that you register for a Hitfile premium account to enjoy more amazing features such as lightning upload/download speeds, parallel downloads, and unlimited storage space.
Background information
Founded in 2014, Hitfile has been active for slightly over 5 years. The company that runs this platform is based in Scotland, with several subsidiaries in the Netherlands, Bahamas, Czech Republic, and the Russian Federation. Even though the company has been around for a short time, Hitfile has built an excellent reputation during this period to become one of the most reliable file hosting platforms available today.
User Interface
Hitfile has a professional-looking website that is not only appealing, but also very easy to use. Moreover, the main page is easily navigable in terms of placement of menus and login options. Whether you want to sign up for a free account, log in as a member, or buy a Hitfile premium account, you can complete all these tasks effortlessly from the home page.
What is more amazing is that the Hitfile website is accessible in 13 different languages. This makes it convenient for international members who might prefer to use their native dialects. You can select your ideal language from the drop-down menu at the top right corner of the home page.
Signing up
For you to upload or download files with Hitfile, you have to sign up. Fortunately, the registration process is fast and straightforward. You just need to enter a valid email address, generate a password, and fill out the provided Captcha code to create a free Hitfile account. Once you complete the signup process, you can start uploading your files right away.
Operation
Operating your Hitfile account is similarly as easy as signing up. Hitfile offers you three different options you can use to upload your files remotely. These options include:
File Transfer Protocol (FTP)
FTP is undoubtedly one of the fastest and safest ways of uploading files online. You just need to open the FTP client provided by Hitfile and drag & drop your files into the upload folder. Web Upload works in a similar manner to FTP. The only difference is that you do not use an FTP client. Instead, you simply click the "Add Files" button or drop your files into the upload window. Conversely, remote upload requires you to enter a URL that links to your file to upload your documents.
Web upload
The best part is that Hitfile is compatible with almost all types of devices. Essentially, you can access your files anywhere via your mobile phone, laptop, tablet, or PC as long as you have a stable internet connection. This allows users to upload, manage, and share files conveniently while on the go.
Remote upload
However, Hitfile has various limitations that affect free accounts. Apparently, you can only keep files for 30 days from the day of upload. Furthermore, download speeds are limited to 1MB per second. With this in mind, it makes sense to upgrade to a Hitfile premium account to enjoy unlimited features.
Security
Cloud storage platforms are relatively safe, and Hitfile is not an exception. However, with the emergence of new hacking techniques, internet users might be worried if Hitfile is safe for use. The good news is that this file hosting provider takes matters to do with security with the seriousness it deserves.
From the onset, all new members are encouraged to create strong passwords to secure their accounts. In addition, the company uses the latest SSL encryption system to protect files against illegal access, theft, and hacking. This security measure applies to both free registered users and Hitfile premium account holders.
Moreover, Hitfile offers backup services that guarantee the safe storage of your files just in case of any mishaps. This means that you can easily restore your files in the unlikely event that a hacking attempt is successful, or your data is compromised.
Additionally, Hitfile has a watertight privacy policy that ensures that all your data is safe. According to this policy, the company promises not to share your details with any third parties.
Hitfile Free Membership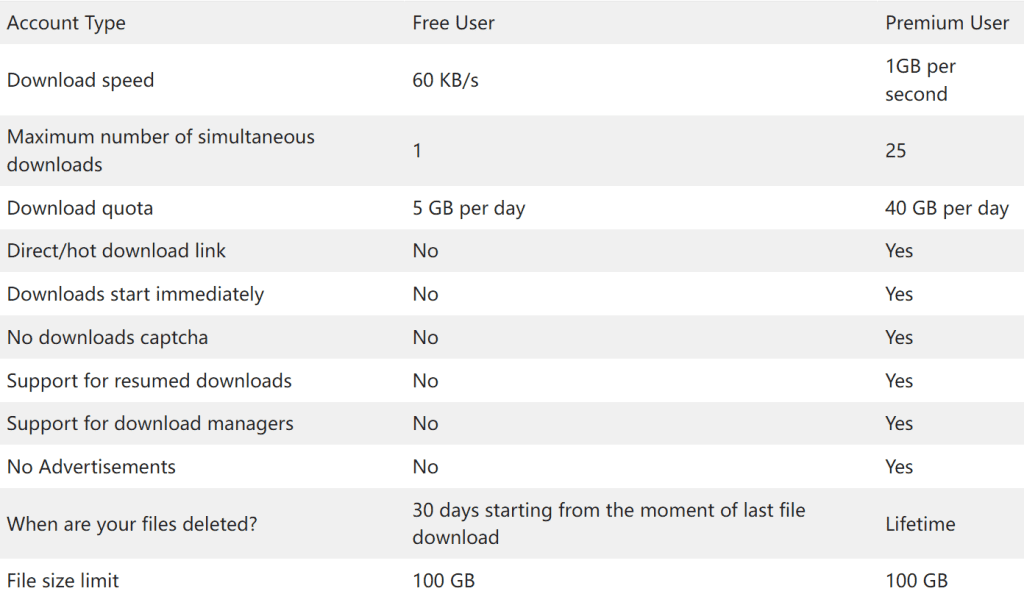 As mentioned earlier, creating an account with Hitfile is 100% free. The only requirements to join are your email address and password. Nevertheless, free account holders have to grapple with various restrictions such as slow download speed, limited storage space, and capped monthly bandwidth. In addition, you cannot download files simultaneously, and you have to wait for a specified period before you can access the download link.
As if that is not enough, free membership does not support "download resume," meaning that you have to restart the download process all over again in case of any disconnections. In terms of storage, free users are eligible to web space of up to 1 TB, and Hitfile automatically deletes all uploaded files after 30 days.
The most annoying aspect about free membership is the adverts that keep popping up before and during the download process. You also have to enter a Captcha code before you can initiate a download process. To avoid all these restrictions, it is advisable that you upgrade to a premium account.
Hitfile premium Account

Unlike free membership, premium members enjoy a wide array of unlimited file hosting services.
Big Files
Firstly, you can upload or download files up to 50 GB in one session.
Simultaneous downloads
Furthermore, Hitfile premium allows for parallel downloads where you can extract multiple files at the same time.
No Captcha codes
What is more amazing is that you do not have to wait or enter a Captcha code before you can initiate a download process.
Enough bandwidth
In terms of bandwidth, premium accounts allow for up to 12 TB monthly.
Expansive storage space
Moreover, members enjoy storage space of up 10TB.
Unlimited runtime for uploaded files
As if that is not enough, Hitfile does not delete uploaded files belonging to premium members. This allows you to upload and keep as many files as possible without worrying about automatic deletion.
Supports various download accelerators
Another interesting feature is that Hitfile premium supports various download accelerators.
Unlimited download speeds
With unlimited download speeds, you can enjoy fast instant downloads.
No advertisements
Moreover, you do not have to put up with annoying ads all the time when uploading or downloading files.
Download resume upon reconnection
Most importantly, Hitfile allows you to create direct links and hot links that you can share with your friends and other users. These links enable third parties to download your files quickly without having to register with Hitfile.
Support and Help
Premium members are eligible to priority support whereby the Hitfile help desk team responds to queries in the shortest time possible. Free registered users may only contact support via email or through ticketing.
Conclusion
Hitfile has only been around for less than a decade, but the company has built an excellent reputation over the years, thanks to its exceptional services. Essentially, you can now upload, share, and download your files easily using a wide range of devices. However, to avoid the restrictions of using a free account, it is advisable that you purchase a premium account. Upgrade to a Hitfile premium account and benefit from unlimited file hosting services at reasonable price plans.